Location of KIDE
KIDE is located in the Hoopa Valley Shopping Center next to the post office in downtown Hoopa. Regular business hours are Monday – Friday from 8am to 5pm.
PO Box 1220
Hoopa CA 95546
(530) 625-4245
---
Community of KIDE
Located in the isolated areas of Northern California.  The Hoopa Valley Indian Reservation lies between two mountain ranges that create a beautiful valley. It is 12 miles long and five miles across at the greatest expanse with the emerald green Trinity River that flows north through the community.
To reach the community, you must drive along a narrow road that hugs a mountain range 300-600 feet above the Trinity River on the valley floor. Hoopa is the gateway to tribes of the region that include the Yurok and Karuk. They are nestled along the river and on the mountain sides in villages named Pecwan, Weitchpec, Orleans and Happy Camp. To the south is Willow Creek, a small multi-cultural village. This is the territory of KIDE, community radio.
KIDE was the first Native American owned and operated Non-Commercial FM full power radio station in California.  There are four others now.  Two are Full Power, and two are Low Power FM stations.
KIDE is the first Solar Powered NCE Radio station in California.
KIDE broadcast is 24/7 and streams on the internet Live.
---
History of the KIDE Call Letters
K'IDE is a word in the Hupa language. It is an antler that is taken off the deer and used as a tool or it is decorated.
We needed a four letter word that started with "K" to be used for the radio station Call Letters. The Call Letters of this radio station were chosen by a Fourth Grade Hupa Language class in 1977.
KIDE has been a tool for the community since December 16, 1980.
---
Staff Members
Michael Heminger: Station/Operations Manager, Email: mheminger@kidefm.org
Coty Yarbrough: Office Manager, Email: Cyarbrough@kidefm.org
Vacant: Satellite/DAD Coordinator, Email:
Joseph Orozco: Lead Producer: jorozco@kidefm.org
Maurice Yarbrough: PSA / Website Coordinator: myarbrough@kidefm.org
---
Volunteers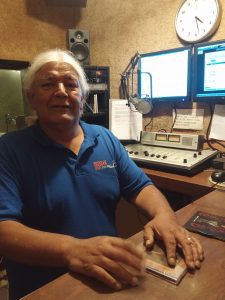 Host-Rodney "Hotrod" Donahue, DJ — Program: "Rez Rock on the Riv"
Host-Michael Heminger, DJ — Program: "Groove Cycle"
Host- The Walrus, DJ — Program: "The Walrus Show"
Host – Gordon Stewart, DJ — Program "The GMan's G Show"
---
Sport Casters:
On Hold until new sport-caster-engineering teams are trained
---
Local Programs:
Production Post by Joseph R. Orozco, heard Tuesdays through Thursdays. A short 3 minute update on what we are working on program wise, and sometimes a summary of a tribal announcement.
The Friday Edition: by Joseph Orozco. This is usually a 29 minute produced interview with someone doing something good in our community, or in their community. It sometimes is an edited production from a news worthy Zoom call with the focus on Health or Social Justice.
CA NDN Headlines/Friday Edition: by Joseph Orozco This version, as the title implies has a California Native focus.
Hoopa Valley Tribal Council meetings: Produced/engineered by Michael Heminger. This is a live gavel-to-gavel production from the Tribal Council Chambers.
Office of Emergency Service/COVID-19 Update: Greg Moon, Host, Co-host/engineer Michael Heminger.  This program also carries updates on current wildfire conditions that may affect Hoopa Valley.
Rez Rock on the Riv with Rodney, "Hotrod" Donahue
Groove Cycle with Michael Anthony (He does not use his real name on the air)
The Walrus Show with The Walrus (He does not use his real name on the air.)
The Gman's G Show with Gordon Stewart
Live coverage of tribal/community events, by KIDE Staff and volunteers.
---