KIDE – Health Matters is listed as 1 of 12 Community Radio Podcast to hear in 2017!
Written by Ernesto Aguilar, Membership Program Producer of the National Federation of Community Broadcasters.
Mr. Aguilar writes: : "I featured it because I just liked the approach. You all have underappreciated programming and, hey, you're members. Our members don't get all the attention they deserve. In addition, you're telling a story that is simply not being told anywhere. It's really remarkable. You should be proud."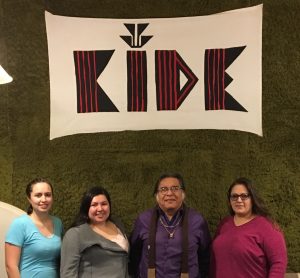 Aguilar continues, I am often impressed by all the appealing podcasts I hear come out of community radio stations every day. If you're curious about what community radio offers in terms of voices and interests, I recommend you start here: (In this list KIDE enters as #9) Mr. Aguilar describes Health Matters as;
Health Matters:  KIDE, A deceptively named podcast is more interesting as you listen. Licensed to the Hoopa Valley Indian Reservation, KIDE is a Native American broadcasting hall of famer. Its call letters are adopted from a word in the residents' language for an antler taken off a deer and used as a tool or decorated. The radio station operates amid challenging circumstances on the reservation, and the podcast relates issues of minority health issues for the community. Illegal drug proliferation and mental health matters are real everywhere, but take on a different weight for Native American communities. Health Matters shares the stories from the rez with compassion, honesty and a commitment to its community.
We have been doing this show over 10 years.  The original producer and still the HM Lead Producer is Cynthia Poten.  Cynthia volunteered at KIDE while living in our river basin area. Cynthia suggests topics and asks for topic ideas from us. Of recently we gained the assistance of Claudia Stickman, a Community Outreach Nurse at Kimaw Medical Center. Cynthia researches the topics and masterfully scripts the narrative to each of the HM readers. The five minute program finds the script must stay within a 760 word limit.  An art in itself.  Why does Ms Poten continue writing Health Matters?  She says, "I have continued because I believe in community radio, I believe in KIDE and I believe health news is important to community health in general."
We at KIDE thank Mr. Aguilar and NFCB for their attention and we thank Cynthia Poten for believing in KIDE.  We are willing to be seen, celebrated and handsomely paid for the gifts we give the world. We thank you for listening.  Your health contributes to the health of our community.
For the full article please see 12 Community Radio Station Podcast to Hear in 2017, go to our website www.kidefm.org/local news