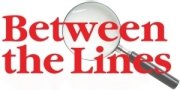 Show Times
Timezone
:
PST
[UTC-8]
Sun:
About the Show
Timely, In-Depth Progressive Analysis
Between The Lines is a weekly syndicated half-hour radio newsmagazine featuring progressive perspectives on national and international political, economic and social issues. Squeaky Wheel Productions is our 501(c)(3) nonprofit production company and distributor.
Because Between The Lines is independent of all publications, media networks or political parties, we are able to bring a diversity of voices to the airwaves. This award-winning program provides a platform for individuals and organizations generally ignored or marginalized in corporate media.
Each week, Between The Lines features:
A five-minute summary of some of the week's under-reported news stories gathered from the alternative press and other sources.
Three in-depth interview segments focusing on significant international, national and regional issues.